← Back to map
Homestead Park
Habitat
Amenity Grassland,
Flowers for Pollinators,
Mixed Woodland,
Park,
Pond,
Wildflower Meadow
Activities
Dog Friendly,
Playground,
Wheelchair Accessible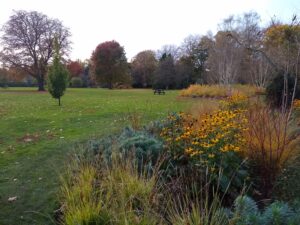 Homestead Park is a great place to visit for all the family. The park has some very colourful flowerbeds, open areas for picnics, a large children's play area, an arboretum and a very picturesque pond which is surrounded by a rockery. The flowerbeds are usually designed to match a different theme each year. In the summer months the park also features a café, mobile library and an area selling garden plants. The park was donated to the city by Seebohm Rowntree in 1904. The park also features a good variety of local wildlife.
Cared for by:
Joseph Rowntree Foundation